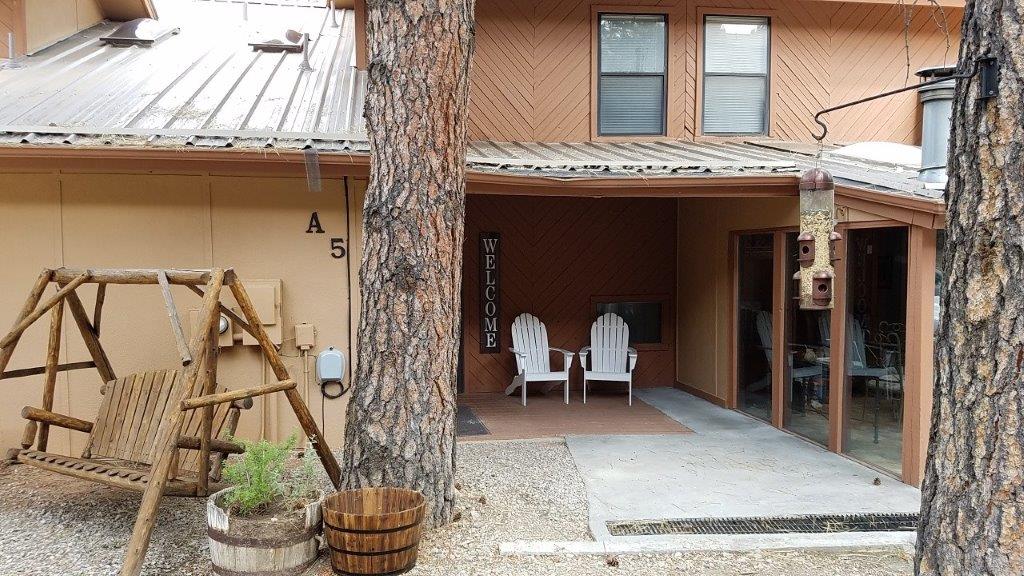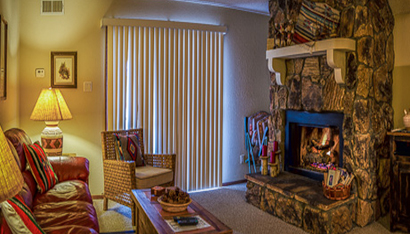 Piñon Park offers both two-level and three-level three bedroom condos. The two-level three bedroom condo is approximately 1,450 square feet and accommodates a maximum of six persons.
On the entry level you will find a large living room with fireplace, master bedroom with full bath and a large kitchen and dining area. Just off the living area is a deck with outdoor table and chairs for relaxing and enjoying our fresh mountain air.
The upper level has two bedrooms, one full bath and a small study.
Our larger three bedroom condos range from 2300 to 2500 square feet and accommodate from 6 to 10 persons. Each is beautifully furnished and equipped with all the amenities you could expect from a "home away from home" … and always immaculate. On the entry level (or middle level) you will find the living room with fireplace, dining room, kitchen and master bedroom with full bath. All of our condos are equipped with a television and VCR, and most of the large three bedroom condos have two or three televisions. The upper level includes two bedrooms and one and one-half or two full bathrooms. The lower level is an open and spacious second living area with either a full or a half bathroom and most have a second fireplace and a sleeper sofa on this level as well. All kitchens are fully equipped with dishes, cooking utensils, microwave, dishwasher, coffeemaker, toaster and blender. Each condo has its own laundry room with washer and dryer and is stocked with detergent for your use. Linens, towels and paper products are all provided. Several of our larger condos have a full size pool table on the lower level and many are equipped with a wet bar, game table and television.
All of these condos have three private decks (one on each level) and are furnished with deck table and chairs. The view from each deck offers a spectacular southwest view of the Sierra Blanca mountains. Since we do offer such a variety of floor plans in our larger condos, we suggest that you contact us with the number of adults and children in your party and we will be happy to assist you in selecting the condo that best suits your needs.